Stuffocation by James Wallman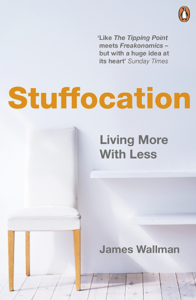 The subtitle of this book is Living More with Less and its an examination of a post materialistic future for our society today.
Taking the book title of Stuffocation James Wallman shows that in developed economies we have started drowning in too much stuff. Then he looks at different movements and how they address this problem. From Minimalism, The Simple Life, The Medium Chill to the Experientialists. The experience economy and a new view of whats important in our lives is what this book finally comes out in favour of.
The Minimalists who cut out more and more ruthlessly their material possessions can maybe be a little to ascetic for James' taste. The Simple Life followers who follow Henry David Thoreau who tells in his book Walden of getting back to nature for two years also comes up short, it's often too hard, Thoreau himself only lasted two years and then went back to the city.
The medium chill a sort of midway between following a completely aspirational life and chilling out is what many people might be doing already and anyway it's not that aspirational is it?
Experientialism is James Wallmans' answer to the materialist society and the economic never ending chase of raising GDP and I think I agree and see something to be taken from all these ideas.
One thing that kind of rubs me though is that as an Architect it is easy to see a sort of minimal style that just drips opulence. This shows itself in interior design, art, fashion and I think I detect it also in some of the minimal lifestyle guru set.  It's rather easier to cut out the things you own if your socks count as one thing or you ripped all your cd's and dvd's to your laptop. If you only own three sets of 250 dollar jeans, and can buy another in a heartbeat,  how is that not fully partaking in materialistic Western society? This type of minimalism somehow doesn't seem that much more than a different type of ostentation, one that leverages the feel good factor of youtube and facebook as you sit atop your influencer network while sipping your fruitshake on a Bali beach (Instagram moment!). The book to be fair does touch on this subject but only just in passing.
I do also see the point in a kind of empowering minimalism when it comes to personal finance. Mr. Money Moustache to take one example shows a way of looking at finances and savings, possessions and even experiences which I think can really empower people. Again this personal finance side of the coin is not touched on in the book.
So overall I really like Stuffocation and it does really make you think about your life and provide a jumping point for further reading and maybe action in your own life. You should definitely read it, but just don't stop there!
Further Reading:
---
---
Date
August 9, 2018
---
---